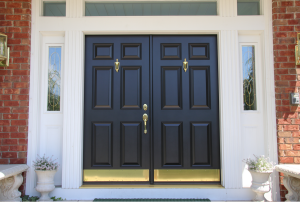 The entryway of your home is one of the first things people notice when they approach your home, whether they're just visiting or thinking of buying it. Here's why your entryway is one of the most important components of your home:
Curb appeal
Simply put, freshly painted and properly installed doors just look good. Upgrading your entryway adds instant market value to your home. Even if you're not thinking of selling in the near future, consider it an investment (and a way to wow the neighbors). Dollar for dollar, this is one of the home improvement investments with the highest return.
Express your personal style
Is your decorating style classic? Modern? Bold and colorful? What about modern farmhouse? Express your unique sense of style with an updated entryway.
Improve energy efficiency and insulation
Over time, exposure to the elements damages your home's door, not to mention sub-floor, joist, rim joist and sill. This damage allows outside air to enter your home, jacking up your heating and cooling costs while making your home feel drafty. Make your home more comfortable and eco-friendly while saving money by getting a new door.
Enhance security
Your entryway does more than welcome guests. It can also keep intruders out with alarms and smart sensors. Make sure your home and belongings stay safe when you're away by installing security features in your entryway.